What Others Are Saying...
Canadiana Kitchens completed a bathroom renovation for us. This is the third renovation we have had done in our home by Scott. Each time we have been so pleased with the results and friends and family have agreed with the quality of the work. With our recent bathroom renovation by Scott and Terry we were
especially pleased with how it turned out. Other sub-contractors who saw our bathroom have said it is one of the nicest bathrooms they have seen. We would call Scott and Terry again for a renovation.
Chris from Barrie


"My husband and I were referred to Canadiana Kitchens by a friend. The total experience was great. They were very efficient, eager to please and change anything you wanted to change. The kitchen was finished on time and we love it and so does everyone who visits. At the end of the day the boys were more like friends than people hired to do a job. Their patience with us was very much appreciated" - Happy Customer in Barrie We can be used as a reference if anyone wishes to" - J. Hamill

"Scott and his aide actually began the project ahead of schedule. They were courteous, did not interfere in any way with the normal household routines. They were clean, cleaned and tidied everything at the end of the day and the project. Scott returned the second day to review and finish his work, and immediately noticed a small tile had slipped down overnight. It was immediately remedied. The whole project was totally satisfactory. The old bathroom tiles were removed with a minimum of dust and debris, new ones installed and properly grouted, and all fixtures replaced in a professional manner. We were positively impressed with Scott's work, and recommend him any time.
"Scott has renovated both our main bathroom and laundry room. We were extremely pleased with both jobs. Scott is efficient, tidy, and pays attention to detail. He asks for your input, gives you a written estimate (which is VERY accurate), and leaves a tidy work space at the end of each day. Scott starts/finishes his jobs on the dates you agree upon. We would not hesitate to recommend him to anyone we know!" - Chris in Barrie

"Scott and his crew are by far the best general contractors I've ever dealt with. We chose Scott based on his professionalism at our initial visit. His pricing was competitive and although not the least expensive, our gut feeling was to use Hunter Contracting. We are soooooo glad we did. Scott and Steve pay attention to detail. They even vacuumed our garage every night so wood shavings were not being tracked into the house! The other thing I liked about Scott is that he contracts out his plumbing and electrical. He allows the experts to do the work, even though he has the skills to do it himself. Your finished product is 100% professionally completed! Finally, there were no $ surprises. If I asked a question to move/add something, he was quick to clarify any additional cost that would fall with that deviation from the plan. Scott remembered details from our conversations and always had our best interest in mind. For example, we thought it would cost us money to move the toilet. Once the plumbing was exposed in the floor, Scott saw that the toilet was going to have to be raised due to our heated flooring addition. He recalled our discussion and suggested we move the toilet at no additional charge. Scott Hunter works hard for YOU!" - Nicole in Barrie

"I Love My Canadiana Kitchen"John Barzo

Powered by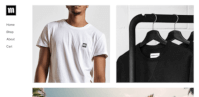 Create your own unique website with customizable templates.